BioProof-ID™
Real time selfie is compared to photo ID
If documents and selfie pass BioSig-ID™authentication is completed
Photos of driver's license or passport verified for authenticity

BioProof-ID™
Real time selfie is compared to photo ID
If documents and selfie pass BioSig-ID™authentication is completed
Photos of driver's license or passport verified for authenticity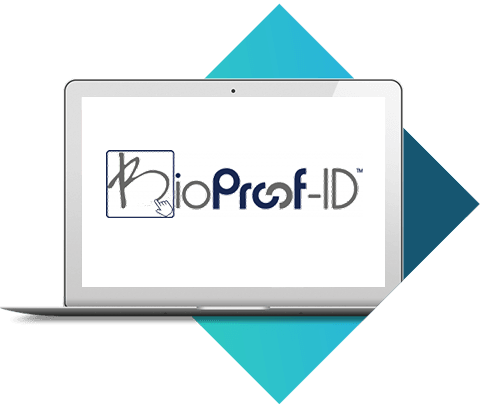 BioProof-ID™ is an entirely new solution to authenticating identity online. It verifies an individual's real world identity at the same time they enroll in BioSig-ID™ and create a password. This links the biometric to a real person. It provides very high assurance the user is who they say they are.
SCHEDULE A WEB DEMO
Features
The process takes only a couple of minutes and allows no break in authentication through the creation of the biometric.
Users start the process by clicking a QR code sent to phone or email
The link opens an authentication layer that sits in front of BioSig-ID™ password creation
User photographs both sides of government-issue photo ID using mobile
User snaps a real time selfie and uploads the images
Document data is checked for validity
Selfie is compared to the picture on the ID
Both forms of ID must match before user can proceed directly to password creation
When your network demands the highest level of verification, you need BioProof-ID™.
Schedule a Free Demo
The BSI team will share a no obligation web demo with you and your team. We can work to your time availability, but most meetings are 30-50 minutes long depending on questions and use case.
GET A DEMO
How it Works
BioProof-ID™ is entirely cloud based, requires no hardware, and is intended for any organization which requires a higher level of identity assurance before allowing users to access services, such as healthcare providers, educational institutions, and financial and banking entities. Most exciting of all, BioProof-ID™ has the potential to replace many face to face encounters, saving money and resources.
Use BioProof-ID™ to:
Authenticate users to a high degree of certainty
Protect sensitive digital records and accounts
Ensure secure logon to access services
Provide end-to-end assurance of identity throughout the user life cycle
BioProof-ID™ is powered by BioSig-ID™ technology which uses dynamic gesture biometrics to enable the creation of a unique biometric password, drawn by the user using just a finger or mouse. Biometrics such as the length, speed, direction, angle and height of each stroke are collected by the software to create the user's unique biometric profile. This password is virtually impossible to replicate by imposters, even if they know the password.

BioSig-ID™ Powered Products
Designed to meet any identity authentication challenge.
SCHEDULE A WEB DEMO
Biometric Multi-factor Authentication
The

World's

Only Biometric Password
No hardware or software downloads
Authenticates by capturing unique movements (gestures) as users draw a password with finger or mouse
Only the registered user gain access to any online activity
Try it out
BioSig-ID™ Customer Reviews
With BSI's technology and forensics data we have been able to successfully defend our legal cases 100% of the time.
Anonymous BSI customer
Reliable and adaptable
Our school has used BioSig-ID™ since before I came along six years ago, but I have been the campus liaison for our students during my tenure. The analytics offered to assist in securing the integrity of our online campus are phenomenal and their customer service is superb. The product is reliable and adaptable. In a previous job I administered a biometric security system and I would have loved it if that system had been as solid as BioSig-ID™.
Melina Baker
campus liaison
Best decision we could have made
At Belhaven University we started our relationship by including managed services. I have to say it was the best decision we could have made. Biometric Signature ID™ has provided us with deep dive insights into the data and given us confidence in closing the loop on those who have suspicious activity on their accounts.Honestly, without their help we would be floundering in making sense of the data. I can recommend managed services from BioSig-ID­™ without reservation.
Dr. Rick Upchurch
Adult, Graduate, & Online Studies - Belhaven University
Forensic Reporting tools has transformed the way we are able to combat suspicious behavior
Collaborating with BioSig-ID™ and using their Forensic Reporting tools has enabled Arkansas State University to quickly and seamlessly identify violations of academic integrity and really transform the way we are able to combat suspicious behavior. With ease of access to data reports that contains IP conflicts, comprehensive data analytics on biometric inaccuracies, etc. A-State has been able to actively work on identifying policies to address academic dishonesty in the online environment.
Chris Boothman
Director of A-State Online - Arkansas State University
We appreciate BioSig-ID™ and our partnership
"We appreciate BioSig-ID™ and our partnership with BSI for many reasons; however, two are paramount. First, the student identity validation processes allow us to have peace of mind that our students complete their own work. Second, we greatly appreciate the partnership between ACE and BSI when issues arise. Specifically, David Chatham and BSI's Forensic Reporting provides real-time guidance and analysis in integrity concerns and acts as a partner as we develop processes and policies."
Stephanie Hinshaw, Ed.D., M.B.A.
Chief Academic Officer & Provost - American College of Education
Product is easy to implement
Product is easy to implement. The support needs for students and instructors has been very limited. The team at Biometric Signature are always quick to respond and open to hear feedback for improving products. They also are ready to share resources and ideas to make implementation more successful.
Dr. Kimberly Harris, eLearning Coordinator, NEMCC
Good and positive results
We had good and positive results…students had no problems utilizing BioSig-ID™ to complete their assignments. I applaud your company's personal service – some of the best customer service I have experienced.
Tony Cleaver, Baptist Missionary Association Theological Seminary
Worked very closely with us
Biometric Signature ID™ worked very closely with us to customize the software for our learning management system, and the robust reporting tools allow us to track usage, validations, and even any invalidation's that might occur.
Dr. Charles Nwankwo, SOWELA Technical Community College
Does not require hardware
BioSig-ID™ does not require students to purchase hardware or software which was important to our students. An additional benefit is the extensive reporting tool to uncover suspicious behaviors that can identify possible academic dishonesty.
Dr. Dana L. Watson, Central Texas College
It's a significant
It's a significant leap forward not only in security, but in the ease of use and customer acceptance… an especially exciting breakthrough for community banks and credit unions.
Tuck Ackerman, Pinnacle Financial Strategies