BioSig-ID's Technology Is Uniquely Different
Here's Why:
BSI's core technology is its gesture biometric authentication technology BioSig-ID™. BSI invented this technology and it was recognized as a novel invention by the US Patent Office who has issued two patents for this discovery (patent numbers, 7663614, 8004491).
BioSig-ID Features
Unlike other biometrics, BSI has created a solution that requires no special hardware or software downloads. No other technology uses gestures to create a unique drawn password. Other benefits include:
Authenticates users by capturing their unique movements (gestures) as they draw a four-character password with their finger or mouse.
Just four drawn characters will biometrically identify legitimate users with 99.78% accuracy while stopping imposters who already know the password with 99.97% accuracy.
Independent testing results were confirmed at these levels by Tolly Research and supplied to NIST and the DEA.
BioSig-ID forms a biometric template from the user's distinct gestures and attributes like angle, speed, length, width and more are captured and compared.
All future logins are compared to this template. Over time, BioSig-ID keeps learning to maintain an accuracy rate that is 3X beyond NIST biometric standards.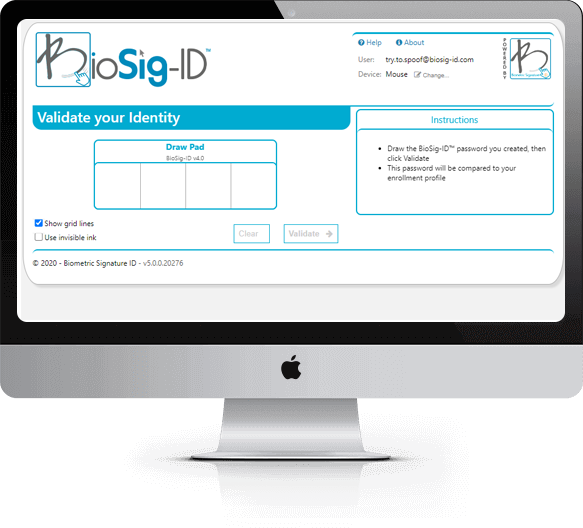 Why BioSig-ID?
BioSig-ID is a multi-factor authentication solution that can be deployed at any layer to gate access to any content (conditional releases) or asset. It includes a suite of forensic and reporting tools that detect and details fraud attempts such as imposters or sharing of passwords. If there's no access because others cannot replicate your drawn signature/password, cheating is stopped immediately. Our forensic/AI division also provides real-time warnings of potential atypical behaviors direct to your inbox.
What makes BioSig-ID revolutionary is it resets and revokes like any other password. BioSig-ID is dynamic and relies on gestures, not static physical characteristics. Gestures and password characters can be changed at any time. No other biometric can be reset. Because of this, physical (static) biometrics present an ongoing privacy risk to user identity and data when breached.
The Biometric Information Privacy Act (BIPA) details physical biometrics as biometric identifiers that require special approval when collected and containment procedures that are not mandatory for "signature based" biometrics.
BSI also offers a Remote Automated Proctoring Solution called BioSight-ID. This is the first proctoring solution that is based on "Face Anonymization" (blurred faces) to protect the identities of students. It does not require invasive collection of document ID, 360 pans of the room, recordings of face and voice, software downloads, take overs of your PC or live proctor intrusions so the technology is very privacy sparing. Web cam monitoring of students during exams catches cheaters and provides instant feedback to the student when an infraction occurs.
Rapid deployment, lightweight API and affordable licensing put BioSig-ID within reach for any company or institution that requires the highest identity assurance to secure its apps or operations. Credential hacks are the single most vulnerable point of entry. BioSig-ID™ puts an end to that risk by stopping imposter log in and sharing of passwords.
BioSig-ID™ Customer Reviews
With BSI's technology and forensics data we have been able to successfully defend our legal cases 100% of the time.
Anonymous BSI customer
Reliable and adaptable
Our school has used BioSig-ID™ since before I came along six years ago, but I have been the campus liaison for our students during my tenure. The analytics offered to assist in securing the integrity of our online campus are phenomenal and their customer service is superb. The product is reliable and adaptable. In a previous job I administered a biometric security system and I would have loved it if that system had been as solid as BioSig-ID™.
Melina Baker
campus liaison
Best decision we could have made
At Belhaven University we started our relationship by including managed services. I have to say it was the best decision we could have made. Biometric Signature ID™ has provided us with deep dive insights into the data and given us confidence in closing the loop on those who have suspicious activity on their accounts.Honestly, without their help we would be floundering in making sense of the data. I can recommend managed services from BioSig-ID­™ without reservation.
Dr. Rick Upchurch
Adult, Graduate, & Online Studies - Belhaven University
Forensic Reporting tools has transformed the way we are able to combat suspicious behavior
Collaborating with BioSig-ID™ and using their Forensic Reporting tools has enabled Arkansas State University to quickly and seamlessly identify violations of academic integrity and really transform the way we are able to combat suspicious behavior. With ease of access to data reports that contains IP conflicts, comprehensive data analytics on biometric inaccuracies, etc. A-State has been able to actively work on identifying policies to address academic dishonesty in the online environment.
Chris Boothman
Director of A-State Online - Arkansas State University
We appreciate BioSig-ID™ and our partnership
"We appreciate BioSig-ID™ and our partnership with BSI for many reasons; however, two are paramount. First, the student identity validation processes allow us to have peace of mind that our students complete their own work. Second, we greatly appreciate the partnership between ACE and BSI when issues arise. Specifically, David Chatham and BSI's Forensic Reporting provides real-time guidance and analysis in integrity concerns and acts as a partner as we develop processes and policies."
Stephanie Hinshaw, Ed.D., M.B.A.
Chief Academic Officer & Provost - American College of Education
Product is easy to implement
Product is easy to implement. The support needs for students and instructors has been very limited. The team at Biometric Signature are always quick to respond and open to hear feedback for improving products. They also are ready to share resources and ideas to make implementation more successful.
Dr. Kimberly Harris, eLearning Coordinator, NEMCC
Good and positive results
We had good and positive results…students had no problems utilizing BioSig-ID™ to complete their assignments. I applaud your company's personal service – some of the best customer service I have experienced.
Tony Cleaver, Baptist Missionary Association Theological Seminary
Worked very closely with us
Biometric Signature ID™ worked very closely with us to customize the software for our learning management system, and the robust reporting tools allow us to track usage, validations, and even any invalidation's that might occur.
Dr. Charles Nwankwo, SOWELA Technical Community College
Does not require hardware
BioSig-ID™ does not require students to purchase hardware or software which was important to our students. An additional benefit is the extensive reporting tool to uncover suspicious behaviors that can identify possible academic dishonesty.
Dr. Dana L. Watson, Central Texas College
It's a significant
It's a significant leap forward not only in security, but in the ease of use and customer acceptance… an especially exciting breakthrough for community banks and credit unions.
Tuck Ackerman, Pinnacle Financial Strategies