Your students had this one right. Almost 230,000 of them from 200 schools WORLDWIDE all signed "Stop Use" petitions!
WHY? – They are MAD! Remote proctoring companies are violating their privacy by collecting their personal data, facial detection (with seriously flawed racial bias), audio recordings, downloading apps for secure browser environments. 360 pan of room, pc takeovers, potentially selling student data, download browser extensions, and more stuff. This has attracted a coalition of senators who have concerns about their business practices and privacy groups who are threatening to sue unless these remote proctoring companies drastically change their business.
Meanwhile many schools are abandoning these companies – University Of Illinois Urbana- Champaign Will Stop Using Controversial Remote-Testing Software Following Student Outcry
In this article, it mentions several serious issues with proctoring related to student privacy and racial bias when using facial recognition and notes that:
"The Electronic Privacy Information Center (EPIC) has filed a complaint with the D.C. Attorney General's office against 5 online test-proctoring services: Respondus, ProctorU, Proctorio, Examity, and Honorlock, for violating the privacy rights of students"
EPIC also sent letters to all five companies warning them that it's prepared to sue unless they agree to "limit their collection of personal data, comply with basic requirements for trustworthy AI, and submit to annual third-party audits
U.S. Senators have gotten involved; a coalition including Sen. Richard Blumenthal (D-CT), Sen. Elizabeth Warren (D-MA), and Sen. Cory Booker (D-NJ) sent an open letter to Proctorio and two similar services in December citing a number of concerns about their business practices


AND in other related news…

USC discontinues controversial exam-proctoring spyware Respondus Monitor" (USC Annenberg Media | February 3, 2021)
In other related news about the serious issue with facial recognition's inherent bias another remote proctoring company ExamSoft has also come under the gun for human rights bias – ExamSoft's proctoring software has a face-detection problem
BSI's own research found at Change.org that 200 schools had nearly 230,000 students sign "Stop Use" petitions against these remote proctoring companies due to privacy and security concerns. See below: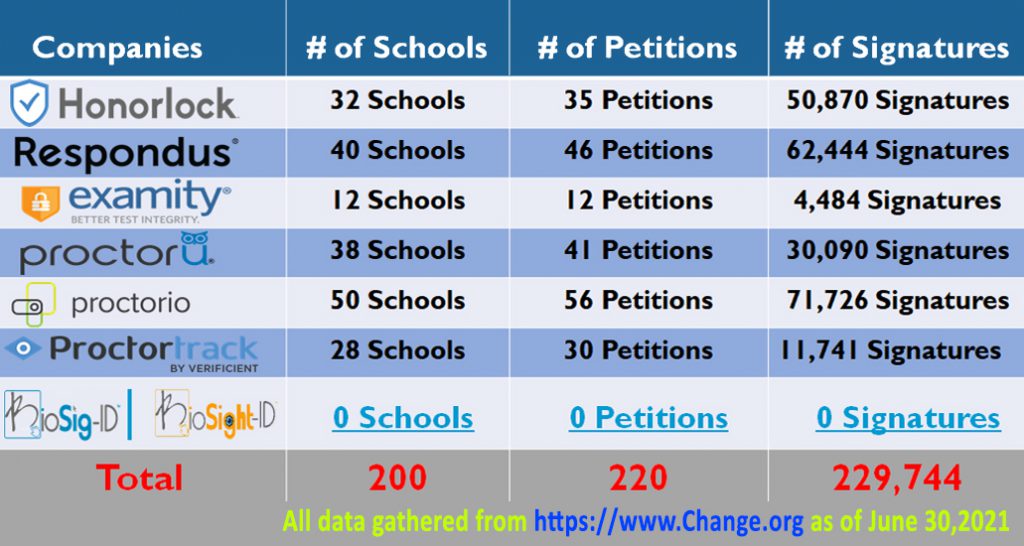 Here's the question. Why would you want to continue or start a contract with a remote proctoring company in light of all this evidence? If you think it will change and go away or if you think these companies will significantly modify their business practices to avoid the privacy lawsuits from EPIC, we suggest these are bad bets.
This is especially true when there are alternatives like BioSight-ID available. "It does the same job as other proctoring companies but does not violate privacy, does not require all the data collections and recordings the other companies require and is a fraction of the cost."  
BioSight-ID…
The world's only privacy sparing/respecting exam monitoring solution that uses "

Face Anonymization

" to protect users' identity and safety.
BSI Automated Proctoring Solves Cheating and Privacy Concerns
Schedule a Demo to learn more about how
we're disrupting the remote exam monitoring industry